Why a Truck Mount Carpet Cleaning Machine is Best
When you're looking for a professional Denver truck mount carpet cleaning service, we have some tips.
Our recommendation is to first look for a service provider offering truck mounted hot water extraction. Hot water extraction (also known as steam cleaning) is the best method for deeply cleaning carpets.
Types of Professional Carpet Cleaning Machines
There are two types of professional carpet cleaning machines that can be used for hot water extraction. A portable carpet cleaning machine and a truck mount carpet cleaning machine. Whenever a truck mount is available, it's by far the superior option.
Truck mounted carpet cleaning machines have significantly better suction, heat, and pressure. This leads to a more thorough, faster carpet cleaning with shorter dry times.
MSS Cleaning is the best truck mount carpet cleaner in Denver and the surrounding areas.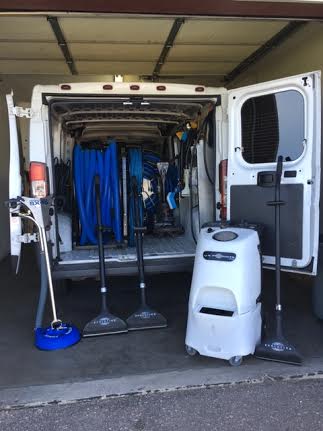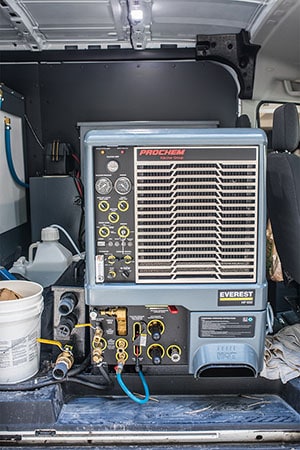 Not All Truck Mount Carpet Cleaning Machines are Created Equal
There are a wide range of truck mount carpet cleaning machines. The quality of work and reliability between machines also varies greatly. Typical machines you'll see typically fall into these categories:
Smaller units with 15-20 horsepower that lack suction power and water heating capacity. We don't use these.
Larger commercial truck mount units with 25-35 horsepower. We use the more powerful versions in this category for some of our machines.
Large truck mount machines with 60+ horsepower car engines designed for massive industrial jobs or giant water extraction needs. We have these for large jobs.
Direct drive truck mount machines – quieter operation and efficiency. We use these where noise can be a concern as well as in daily operation, they work great.
As we've evolved as a company, we've purchased various different truck mounts for different purposes. At the end of the day, all of our equipment is top of the line and does an exceptional job, without cutting any corners in your home or business.
Four Reasons Why Our Truck Mounts Help Us To Be The Best
Reach
Our largest truck mount carpet cleaning machines can pull vacuum for up to 1,000 feet if needed. Smaller residential machines are lucky to pull vacuum half of that distance (many even less). 
For Denver carpet cleaning services, this means we can park in a safe place, and that we can carpet clean large office buildings reaching the farthest corners, even in huge spaces.
Heat
Effective, professional carpet cleaning requires hot, consistent heat.
When you wash your dishes with hot water instead of cold water, its significantly easier and more effective. In the same way, hot water is vital to getting your carpets as clean as possible. Heat is lost over long hose runs in smaller machines.
Having machines that can put out more heat than we could ever need makes sure we can do the job right. Even with long hose runs for carpet cleaning large buildings.
High heat is also vital for other tasks like tile cleaning or other hard surface cleaning. Like the dish washing example before, cleaning surfaces with hot water vs. cold water is infinitely more effective.
Pressure
Many smaller residential truck mount carpet cleaning machines have a maximum sustained pressure of 1,000 PSI or less. While that may be adequate for carpet cleaning, when we need it, we've got plenty more pressure than "the other guys". This makes a huge difference in getting your tile and grout lines cleaned. The same applies for cleaning concrete or other hard surfaces.
Age and maintenance
Like all heavy-duty equipment, all truck mounted carpet cleaning machines have a useful life. Estimates vary on how many hours this is and how long a company can keep their old machines limping along. At MSS Cleaning, we prefer to avoid ever getting close to the point of ineffectiveness. We replace our equipment that no longer functions at full capacity.
You want Denver's best carpet cleaning services. Those carpet cleaning services can't be delivered on under-powered or beat up old carpet cleaning machines.
We see it all the time – "carpet cleaners" using rusted out, outdated, beat to death truck mounts and equipment. Secondarily, we see companies trying to hack it in the commercial space using small, under-powered truck mounts or portables.
Place your trust with MSS Cleaning to bring the right, modern, well maintained equipment and to be the best truck mount carpet cleaners in Denver.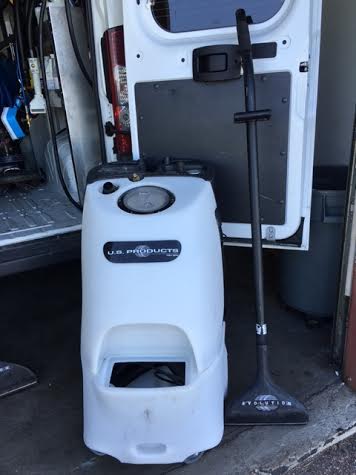 When a Portable Machine is Needed
Whenever possible, we use a truck mounted carpet cleaning machine for it's superior carpet cleaning abilities. There are certain limited instances, however, where using a truck mount is not feasible.
For the most part, portable carpet machines should only be needed for tall, multi-story buildings or other limited access scenarios. Once you get beyond the 4th floor, pulling hoses for a truck mount starts to get difficult (though sometimes it still is possible for another floor or two).
When faced with these challenges, MSS Cleaning can still provide the best portable carpet cleaning services in Denver. We use our portable machines in carpet cleaning high rise offices, carpet cleaning condos, or carpet cleaning apartments.
While not as strong as a truck mount carpet cleaner, we can still do a great job with providing the best portable, Denver carpet cleaning services.
Professionals Trust MSS Cleaning
Regardless of whether you need Denver carpet cleaning services in your home or your business. Whether you are on the first floor, or the 40th.
Irrespective of if you need carpet cleaning for have 1,000 sq. ft. of carpet in your home or you need commercial carpet cleaning for your 100,000 sq. ft. office or restaurant carpet cleaning, you can feel confident in knowing the experts at MSS Cleaning will always be your truck mount carpet cleaning Denver partner.
We'll bring the best equipment available to clean your carpets and other spaces in the best way that it can be cleaned.