Denver Restaurant Carpet Cleaning is Tough Work
Leave the Hard Work to the Pros
MSS Cleaning provides restaurant carpet cleaning to a number of well known (and not so well known) restaurants in Denver, Lakewood, and all the way north to Fort Collins and south to Colorado Springs. Being a restaurant carpet cleaner offers some of the toughest challenges we face. Having the right know-how, solutions, and proper truck mounted equipment makes all the difference.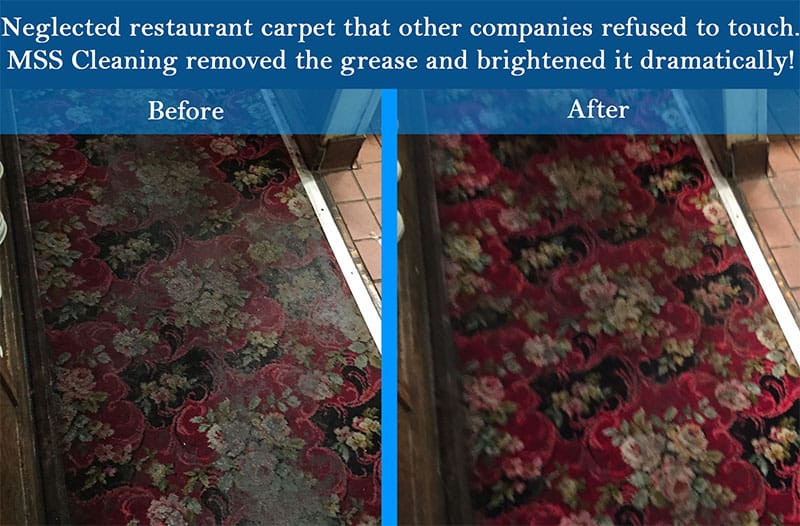 Restaurant Carpet Cleaning Offers Many Significant Challenges. Here are some of them:
Foot Traffic – There is heavy foot traffic to contend with, typically with well-defined traffic areas between tables and chairs.
Greasy Carpets – Grease is often present. Greasy carpets are common between the front and back of house areas where staff is tracking kitchen grease into the main dining area. It is also embedded in carpet throughout the restaurant.
Scheduling – You need to keep your restaurant open during the day and into the night. You need a restaurant carpet cleaning service that can work around your hours. Whether you need us at night or in the morning before opening, we can accommodate your needs.
Moving Furniture – Tables, chairs and other items must be moved, and moved back in almost all restaurant carpet cleaning scenarios. We move furniture for you and return it to it's place.
Other Cleaning Needs – Commonly there are tiled areas to be cleaned and upholstery cleaning requirements, MSS Cleaning can provide all of these services.
Restaurant Carpet Cleaning Process – What to Expect
New Customers:
Your restaurant carpet cleaning solution will be custom tailored to your specific needs. For new customers, we will want to come and see the restaurant. This is to assess the amount of grease, the soiling of traffic areas, the presence of tile, the upholstery cleaning needs and more.
As your Denver restaurant carpet cleaning partner, it's important that we have a clear understanding of your needs and expectations. Once we have a survey done, we will then work to find an appropriate time to clean your restaurant's carpet. Don't worry, we'll work within your schedule.
Ongoing Services:
As a local carpet cleaning company we like to partner with our customers to be their trusted restaurant carpet cleaner. Whether you need restaurant carpet cleaning in Denver, Lakewood, Aurora or wherever your restaurant is located, we can help. We don't only want to clean your restaurant carpet, but we want to help you out with all of your restaurant's cleaning needs.
MSS Cleaning wants to help you as needed with restaurant upholstery cleaning, restaurant tile cleaning, and more. We also want to build you a customized schedule with dedicated days and times so you always know when we're coming.
The Right Restaurant Carpet Cleaning Equipment Makes All The Difference
In order to be the best restaurant carpet cleaner, you have to have the best equipment. Don't worry, we do. MSS Cleaning uses powerful, modern commercial grade truck mounted carpet cleaning machines. Many of our competitors have old, worn out, or otherwise under powered machines originally built for residential applications.
To tackle the challenges of restaurant carpet steam cleaning, you need a machine that delivers very hot, consistent water. You also need plenty of pressure to tackle not just carpet cleaning but restaurant tile cleaning as well. Lastly you need a lot of vacuum to suck all of that water and solution back out. Lastly, we have rotary carpet cleaning tools that we can use for particularly soiled or greasy areas.
Restaurant Carpet Cleaning Solutions
In addition to the right equipment, you also want the right solutions applied to the carpet. Our expert technicians apply the right solutions in order to break down grease, treat traffic areas, and lift stains. MSS Cleaning is your trusted restaurant carpet cleaner. Give us a call today!