What are Carpet Traffic Lanes?
Traffic lanes are the areas in a home or business where people repeatedly walk the most. Hallways, doorways and pathways around furniture see more walking traffic. Less used rooms or areas, under furniture and other less traveled places see less wear and tear.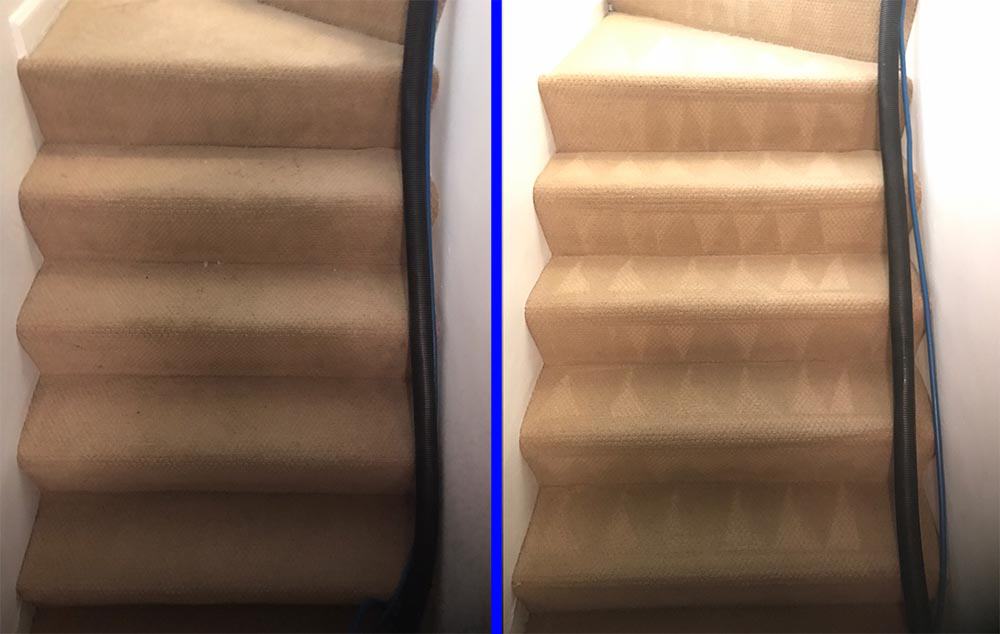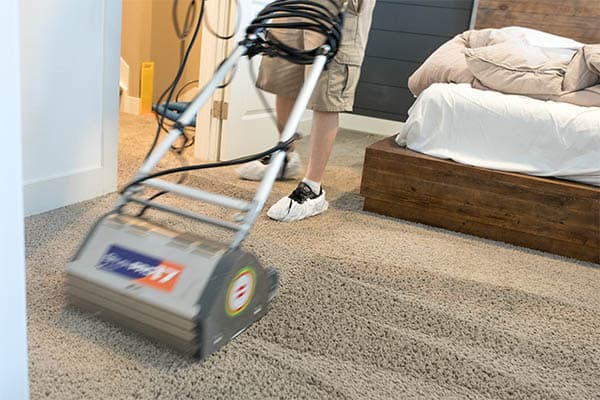 Traffic Lane Carpet Cleaning Considerations
Traffic lanes see a greater amount of foot traffic. Consequently, they both collect dirt and wear out faster. Because of this, professional carpet cleaning companies typically have special considerations for cleaning the high traffic areas in a home or business.
Higher strength or concentration pre-sprays may be applied for more cleaning power.
Agitation should be used, preferably with a machine like a counter rotating brush, to provide deep scrubbing and soil removal.
Carpet pile should be lifted and set both via agitation (or a pile lifter) as well as with a carpet grooming after the job has been completed.
Dry Soil Damages Carpets
Many people don't realize that dry soil, repeatedly ground into carpet through foot traffic, further accelerates wear.
Not vacuuming frequently as well as not professionally cleaning carpets on a recommended basis can lead to the prematurely wearing out. Carpet manufacturers typically recommend a 12-18 month interval for professional carpet cleaning. Failing to to this can lead to carpet prematurely wearing out. Then, it may need to be replaced sooner than if it had been properly maintained.
Commercial Traffic Lane Carpet Cleaners
When designing an ongoing commercial carpet maintenance plan, many times it makes more sense to alternate full carpet cleanings with traffic lane cleanings. Areas like hallways, the pathway to a breakroom, and conference rooms see more foot traffic and soiling. Alternating cleanings of all areas vs. just the traffic areas saves costs while still doing a great job.
Another option for commercial traffic lane cleaners is to use encapsulation cleaning for commercial maintenance alternated with the thorough deep cleaning or hot water extraction. This keeps the carpet looking good, helps remove damaging dry soil, and adds longevity on to the expensive carpet investment.
Encapsulation is a different carpet cleaning method that does not clean as deeply as hot water extraction, but still does a good job at a lower cost.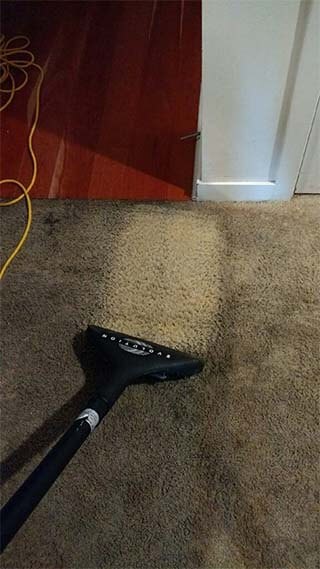 Worn Out or Dirty Traffic Lanes?
Many times our customers want to know whether dark traffic lanes can be cleaned, or not. The answer is "it depends". If the cause of the darkened area is dirt, soil and mud, then yes, a thorough cleaning should return the carpet to a uniform appearance.
Narrow Traffic Lanes Accelerate Wear
On the other hand, if traffic lanes have been repeatedly traveled through a narrow area for years and years, if shoes are worn in the area, or the area has not been frequently cleaned, darkened traffic lanes may be more permanent. They'll almost always improve significantly with a thorough cleaning. However, they may still be visible.
Worn Out Damaged Carpet
Often this is due to worn down carpet and/or burst and unraveling carpet fibers instead of what may appear to be soiled areas. When this happens, light refracting off the carpet fibers can provide a contrasting appearance to the adjacent carpet fibers, such that they appear darker.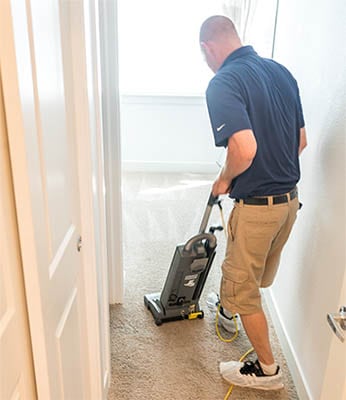 How Can I Avoid Dark Traffic Lanes
The most important way to avoid visible traffic lanes in carpet is to keep the carpets properly maintained. Vacuum the carpet regularly. Avoid walking on the carpet with shoes if possible.
Professional Carpet Maintenance
Get the carpet professionally cleaned per the manufacturer's recommended cleaning schedule. More often if you have pets and/or kids or heavy traffic sources. Following these tips will help your carpets look better, longer. Here are the carpet cleaning frequency guidelines one of the largest carpet manufacturers, Shaw,
Eventually Dark Traffic Lanes Will Occur Regardless
Like all textiles, even with proper maintenance, carpet has a useful life and will eventually wear out. Following the tips in this article will certainly prolong the life of the carpet, but it will still wear out some day.
Traffic lanes will be the first places to show significant wear. Once it's worn out, there really is nothing that can be done to fully change the darkened appearance.
Better Quality Carpets Last Longer
For cheaper carpets, wear can occur as early as 8-10 years, while higher quality carpets like nylon or newer higher quality polyester carpets can last over 15 years and top quality carpet fibers like wool carpet can regularly last longer than 20 or 25 years. Commercial carpet can wear out even quicker.
The Best Denver Area Carpet Cleaning Company For Traffic Lanes
For help with cleaning and restoring traffic lanes, call the Denver carpet cleaning experts at MSS Cleaning. We can discuss how we design custom plans for keeping your carpet, whether commercial or residential, looking its absolute best. We offer carpet cleaning throughout the Denver area. From carpet cleaning in Castle Rock to Boulder, Thornton, and beyond.