How to Get Dog Hair Out of Carpet
Helpful tips and trick to remove dog hair from carpet
Dogs are our best friends. They bring an unbelievable amount of joy to their owners' lives. For as much happiness as we get from our dogs, we get an equal amount of frustration when it's time to clean up after them.
If you own a dog, you have probably struggled with how to get dog hair out of carpet. Try as you might, getting dog hair out of carpet is no easy task. Even the best vacuum cleaners can be less than adequate at completely removing the hair. So, what's the best way to get dog hair out of carpet?
Here are some tips and tricks that could make it easier.
Get a Vacuum for Pet Hair
One of the best answers to how to get dog hair out of carpet is to get a pet hair vacuum cleaner.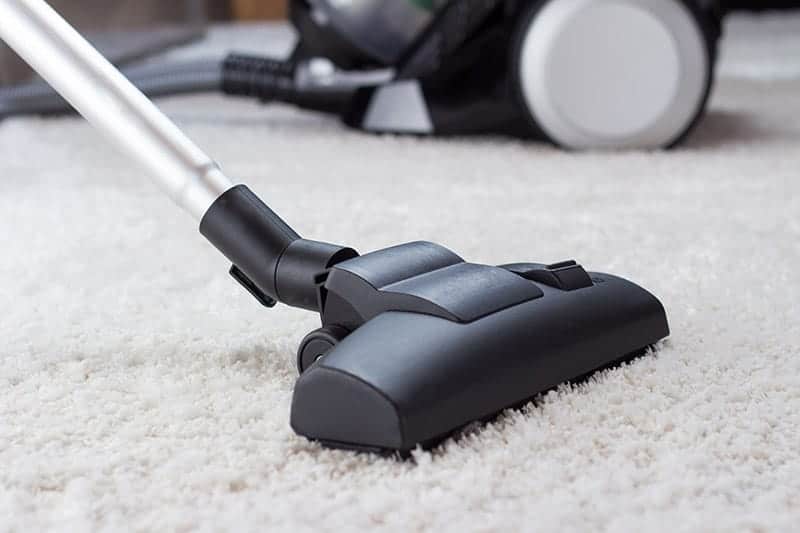 Some of these vacuum cleaners can be quite expensive and quite heavy, too. In general, you want to make sure the pet hair vacuum you choose has a powered roller bar. The bar and attached brushes spin, picking up dog hair from within the carpet fibers, making it infinitely more effective at picking up pet hair than a vacuum without one.
There are loads of vacuums on the market right now, and many designs tackle hard-to-get pet hair. Do your research when you are searching for pet hair vacuums, though. There is a lot on the market, and not all of them perform as well as they say they do.
Dog Hair Vacuum Recommendations
As the owner of a Bernese Mountain Dog, I'm no stranger to an abundance of dog hair. Also as the owner of a carpet cleaning business, I know a thing or two about vacuums. I personally own all of the vacuums I mention in this post.
I had the Dyson V8 Animal stick vacuum before upgrading to the V11 Animal +. The V8 does a good job, however the V11 does a great job (with far better battery life) and has awesome attachments that work great. The Miele C3 Cat and Dog canister vacuum is by far the best home vacuum I've ever used.
We primarily use the V11 stick vacuum on a day to day basis in our home and break out the Miele for deeper cleaning. When we do, we're always surprised at how much more hair it picks up. It's also better for cleaning things like curtains and upholstery (though the V11 does a very passable job on it's own).
Lastly, the Windsor XP 12 commercial vacuum has a home on each of our 5 trucks. We use them in customer's homes before we clean the carpets (we remove the dry soil before we do hot water extraction with our truck mounts, as all good carpet cleaning companies should).
These vacuums are powerful, durable, easy to fix and have cheap and easily replaceable bags. It's an upright, so it does leave a bit to be desired with it's attachments and hose, but if you are primarily vacuuming a lot of carpet, these things are tough to beat.
Stick Vacuums
Stick Vacuums can be really convenient and are surprisingly powerful. We recommend both the Dyson V11 Animal+ for the most powerful option we've tested as well as the Dyson V8 Animal for a lower price point, as it's an older model.
I used the Dyson V11 Animal in my home for frequent clean ups and a Miele C3 Cat and Dog canister vacuum for deep cleaning. The convenience of a Dyson stick vacuum is tough to beat, but it doesn't have the deep cleaning power of the Miele.
I've tested the Dyson V11 against the V8 and the suction difference is substantial. I liked it so much that I traded up from my V8. For the much lower price point, the V8 still does a great job on hardwoods and carpet alike.
Full Sized (Corded) Vacuums
When it comes to powerful vacuums for pet hair, it's hard to beat the power of a corded vacuum, ideally one with a bag. Bagged vacuums, on the whole, outperform bagless. I own and use the Miele C3 Cat and Dog Canister Vacuum. It's absolutely best in class in terms of suction and accessories.
At a slightly lower price point than a Miele, the Windsor XP12 upright vacuums are exceptional if you are primarily vacuuming carpet and hard surfaces and don't require much in terms of upholstery tools (though it does come with a crevice tool and other hand tool).
The next time you are in a hotel, look at the vacuum they use. I'll bet it's a Windsor. The reason for this is they provide great suction, they're reliable and they are easy to maintain. We carry one in every carpet cleaning van we have and use it in every house we clean carpets in.
Use Rubber to Remove Pet Hair
Believe it or not, rubber has a natural grip to it. In this way, it serves as a type of magnet for pet hair. This method is very similar to the theory of using a lint roller or adhesive tape.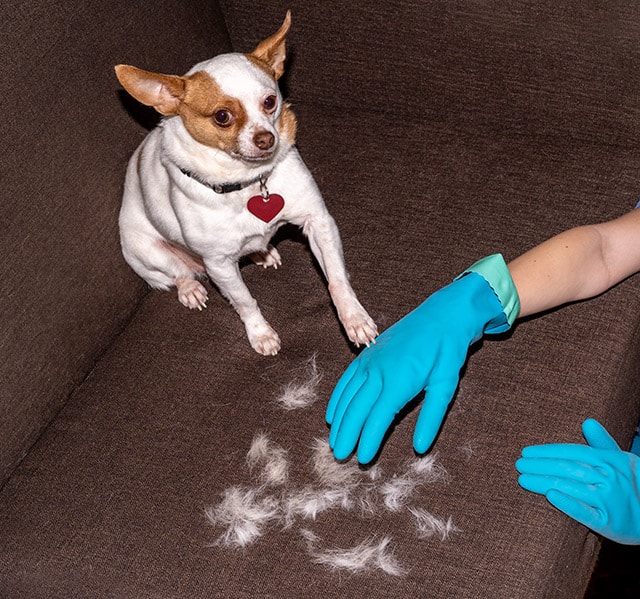 There are a few rubber options to remove dog hair from a carpet. First, you could use a rubber squeegee. By using repetitive, short strokes, you can pull the dog hair out of the fibers of the carpet.
For challenging parts of your carpet, you can also get on your hands and knees and use rubber gloves. Rub heavy-duty rubber gloves over the rug, and gather up the pet hair in your hands. This method is a little more surgical and would allow you to get into all the fibers very finely.
If that seems like too much work, and wear and tear on your body, you could also use a broom with a rubber bottom. Using the broom would allow you to cover a larger area. The broom method effectively removes dog hair from carpet, although it's not as precise as the smaller squeegee or rubber glove method.
Use a Carpet Rake for Pet Hair Removal from Carpet
You aren't the only one who's struggling with how to get dog hair out of carpet. One of those people who are just like you invented the carpet rake.
This tool removes hard-to-reach items from between the carpet fibers. You run the carpet rake over the carpet, and the "fingers" will get in between the fibers to remove the pet hair.
An added benefit of a carpet rake is that it will fluff the pile on your carpet, too, which will make it look like new when you're finished.
We typically use a machine called a Brush Pro to remove pet hair and scrub carpet while cleaning, but considering these cost about $3,500 and have a very specific use, for homeowners with a lot of embedded pet hair, we recommend a product made by Grandi Groomer to tackle tough pet hair (which we also use to align carpet after we clean it to speed drying and make it look nice). They make one for standard to high pile carpet and another for low pile carpet like berber.
For mid-high pile carpets
For low pile carpets, primarily berber
There's no substitute for professional carpet cleaning…
If you're struggling getting dog hair out of carpet and happen to be in the Denver area, give the experts at MSS Cleaning a call. We're experts at getting pet hair out of carpet and can clean deeper than you ever could as a homeowner. We'd be happy to help you out! Call us at (303) 536-8874, email us at info@msscleaning.com.
When you buy anything through links on our site, we may earn an affiliate commission.