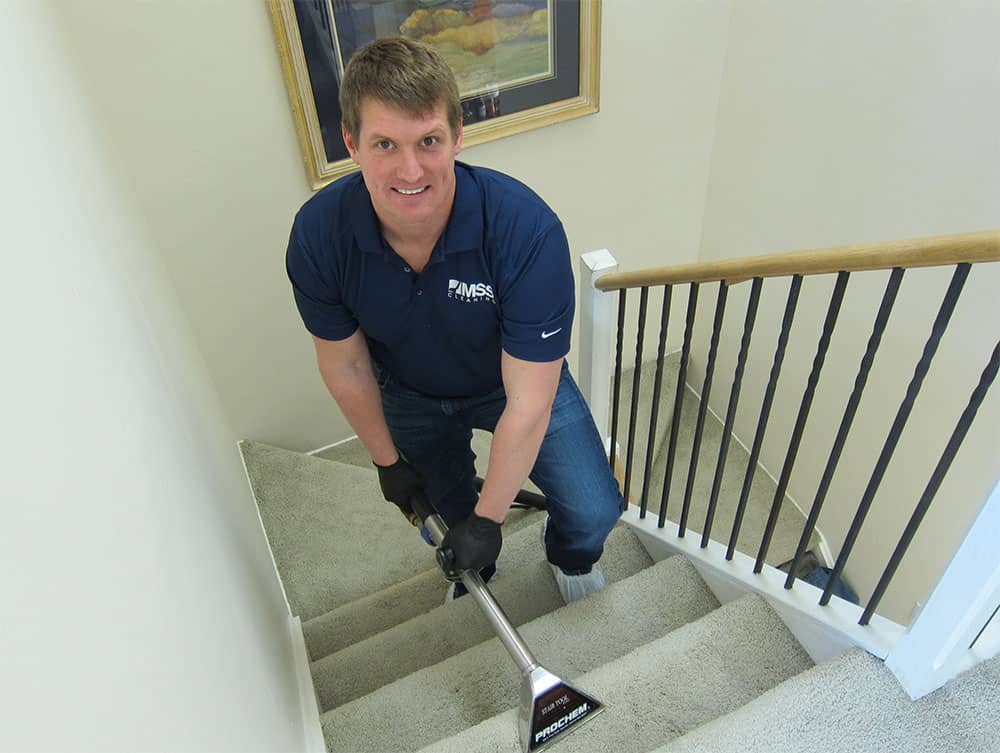 Wet and soggy carpet can be concerning. Understandably, you'd prefer your carpets to be dry sooner than later. Usually after a carpet cleaning, carpets are dry in 6-10 hours. For a flood or other more extreme amounts of water, we provide detailed answers to each scenario below.
In general, the answer to how long does it take for carpets to dry has a lot to do with how wet your carpets are presently, what caused them to get wet, and what external factors are affecting dry time. 
A General Rule of Thumb for Carpet Drying
In general, you don't want your carpets to be severely wet for more than 24-48 hours. This is to avoid concerns about having smelly carpet or developing microbial growth. Carpets that are over-wetted or wet for a long period of time can also develop carpet buckles or rippling. Carpet water damage restoration can be both costly and time consuming. 
Typically carpets are wet for one of two reasons. Either they are wet from a flood or they are wet from a professional or DIY carpet cleaning. If you'd like to jump right to your relevant section, click the link below:
How Long Does It Take For Carpets To Dry After Cleaning By A Professional
When you have your carpets professionally cleaned, you should expect your carpets to be slightly damp to the touch after the service is completed. Your carpets should never be left wet or soggy after a steam cleaning process.
Typical dry times are 6-10 hours for residential carpet. Commercial carpet typically dries in 2-6 hours. The actual dry time depends on a lot of different factors. If your carpets are still wet 24 hours after your carpet cleaning, it's time to call back the company that did the work.
Factors That Impact Carpet Dry Time After a Professional Carpet Cleaning
The Equipment Used
There is a noticeable difference in dry times between a high end, modern truck mounted system and a weaker, budget model. Similarly, the age of the equipment matters. A modern, well maintained machine is going to extract more water than a 25 year old beat up machine.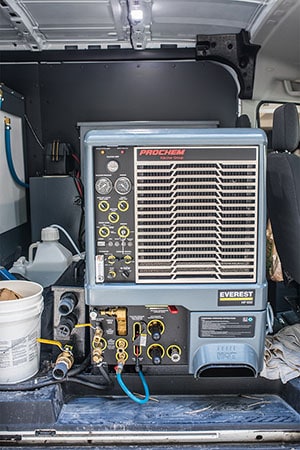 Quality of Carpet Cleaning Workmanship
A quality carpet cleaning service with a skilled technician is going to take extra steps that a budget provider will most certainly skip. Budget carpet cleaners need to blow through a lot of jobs in a day in order to make any money.
So, they rush by not taking the time to "dry stroke" with the carpet cleaning wand during the hot water extraction phase of the carpet cleaning. This extra vacuum-only stroke is important, since it sucks up a lot more water and leads to faster dry times. A knowledgeable technician also will set the machine properly so as not to over-wet the carpet.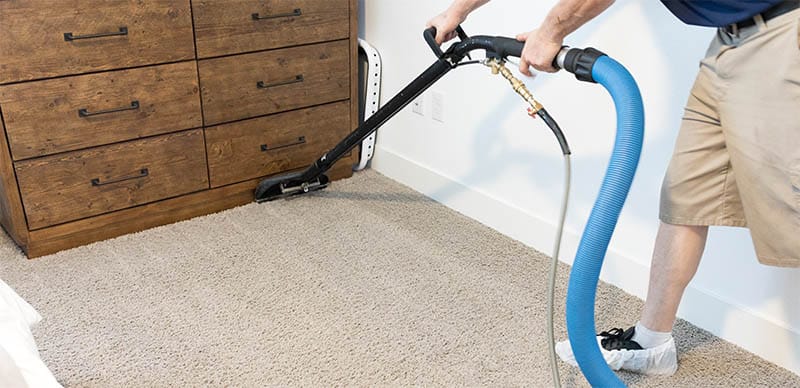 Were Speed Drying with Fans and Carpet Grooming Part of the Process?
Higher end carpet cleaning companies use specific carpet cleaning fans to help speed up dry times. These fans are moved around as carpet cleaning is completed in each area.
Carpet grooming can also speed up dry times by aligning the carpet fibers. Aligned carpet fibers will help wick moisture away from the carpet backing and pad which will speed up carpet dry time.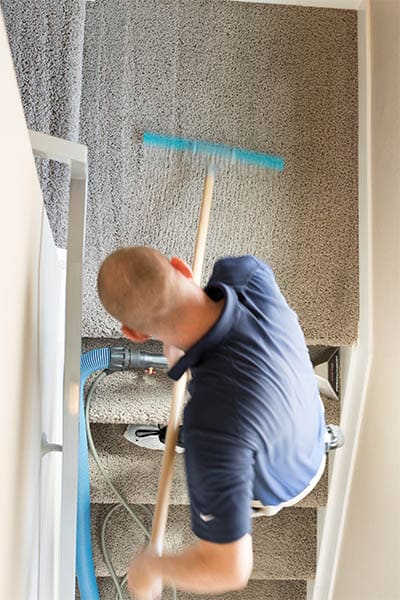 How Long Does It Take Carpets To Dry After DIY Carpet Cleaning
For carpet to be thoroughly cleaned, water must be injected into the carpet. Professionals have a very powerful vacuum that extracts the vast majority of this water. By comparison, DIY carpet cleaning machines have a much weaker vacuum.
However, they also spray a much weaker spray of water, meaning there is not as much water to remove. Typical dry times will depend on how "heavy" you go with the DIY equipment. 6-10 hours would be typical dry time.
How Long Does Carpet Take To Dry After A Flood
If you have experienced a flood, don't expect the carpet to dry on its own before damage sets in. We recommend you call a local water damage restoration company right away. Certainly, we'd love to be that first call.
Not taking care of water damage is a recipe for a much larger bill once the carpet, padding, drywall, and other surfaces develop mold. 48-72 hours is when mold typically begins to propagate, so you want to act quickly to avoid further damage and higher costs.
Professional Water Restoration and Drying Services
After you experience a flood you need a company to take initial moisture readings, extract the water, and remove any unsalvageable material such as drywall.
From there, they will set up fans and dehumidifiers to remove the remaining water. Next, they will also take daily moisture readings until the moisture reaches a normal range. Expect this to take at least a few days.
If the flood water is clean and the water restoration beings on the day of the flood, it may be possible to save the carpet and the padding. In this case, we can also repair and stretch the carpet as needed. However, If the flood was caused by grey or black water (such as a sewer backup), everything must be removed.
Don't wait too long before calling a restoration service. Otherwise, much more work and a higher cost will be required to remedy the problem. Once mold is discovered, containment will need to be set up and mold mitigation will begin. This will skyrocket the price, the time it takes, and the hassle required for you, in order to get everything fixed.
What Can I do to Speed Up Carpet Drying Time?
If your carpets are only damp to the touch (not wet, like after a flood or a faulty carpet cleaning), these recommendations will help get it dried out quickly. If the carpets are truly wet, you are best off calling in a professional.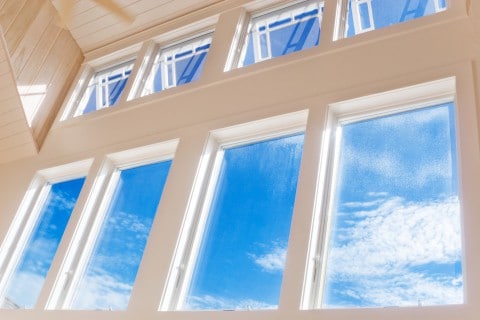 Circulate Some Air Around
During any time of the year, turn on any ceiling fans you may have, and/or set up a few box fans. If it's warm out, open up your windows and doors. This will help the moisture escape while allowing for circulating air to carry the moisture out of your home or office.
During the Summer or in a Hot Climate
Let the air conditioning run. Keep the HVAC fan running. Air conditioning pulls moisture out of the air as it cools.
During the Winter or in a Cold Climate
Turn the heat up to 70 degrees Fahrenheit. Keep your HVAC fan running full time to circulate air.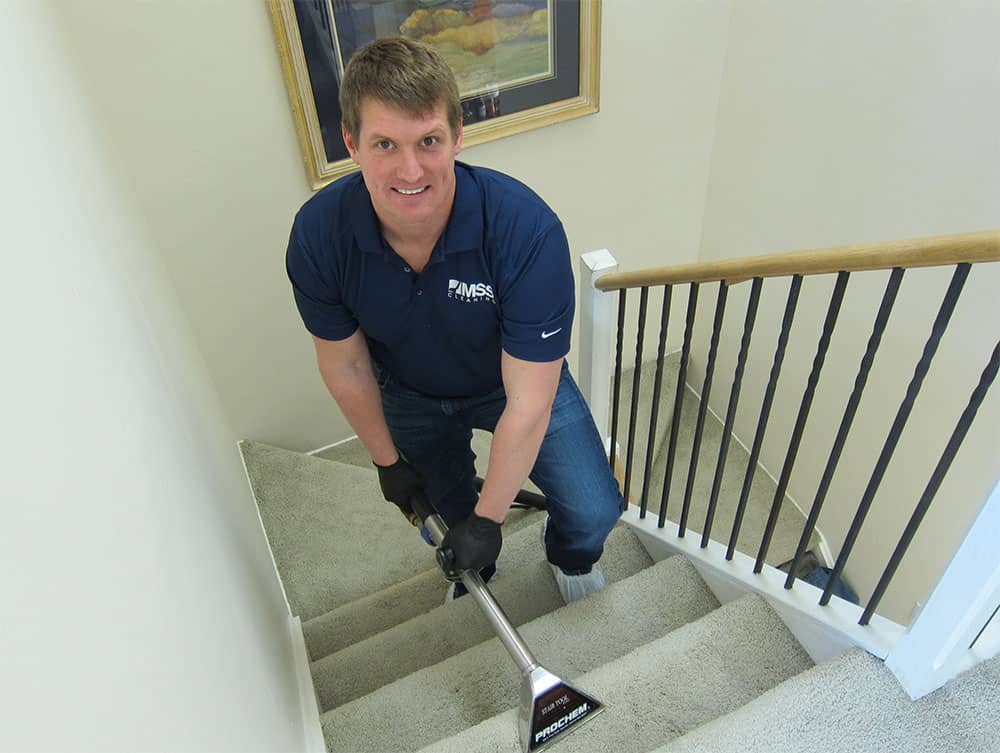 We're Here To Help
If you have any other questions about how long does it take for carpets to dry, please don't hesitate to reach out. We'd be happy to help. As always, if you need professional carpet cleaning services in Denver, give us a call or schedule an appointment.