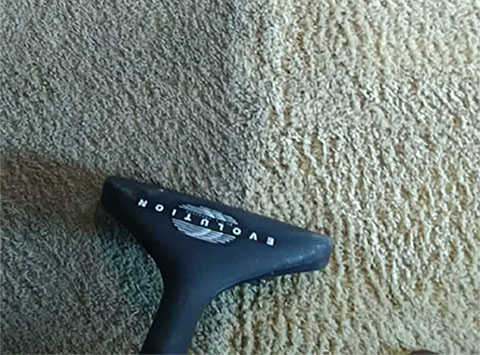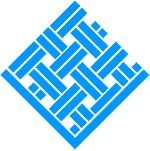 Smelly Carpet After Cleaning
Why Does My Carpet Smell Worse After Carpet Cleaning?
You just had your carpet cleaned (or cleaned it yourself) and now you have a smelly carpet after cleaning. Wasn't the idea to make the carpet smell better, not worse? Let's explore the likely causes of the smelly carpet issue and come up with a plan. If your carpet smells worse after cleaning, there's clearly something wrong.
The Primary Causes of Smelly Carpet After Cleaning Are:
Over-Wetting the Carpet (Musty Smell)

Water Damage (Moldy Smell)

Pet Odor and Urine (Urine Smell)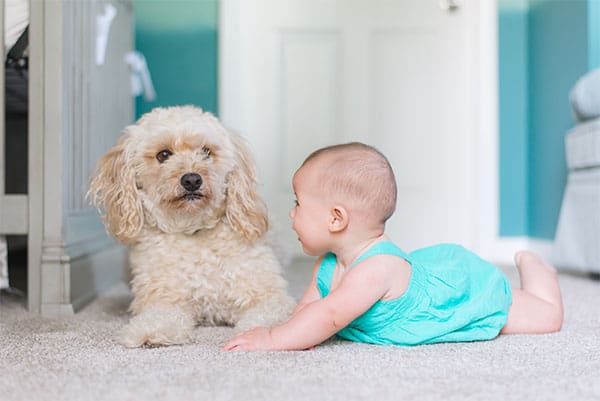 Cleaned Carpet Now Smells Like Wet Dog
There are a few possible reasons your carpet now smells like a wet dog. Firstly, most carpet cleaning uses water. The gold standard method for cleaning carpets is a process called Hot Water Extraction.
In this method, a significant amount of water and solution is applied to the carpet. It's then extracted with a powerful vacuum.
The best variant of this type of cleaning uses a truck mounted carpet cleaning system. This is because it has superior power, water heating abilities, and stronger vacuum.
The typical issue is that too much water has been left in the carpet by someone that doesn't know what they are doing. Now the carpet smells like wet dog.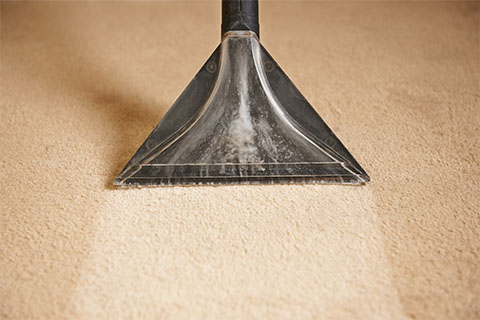 Too Much Water Left in the Carpet
Have you ever washed a cycle of laundry but forgot to take it out of the washer and throw it into the dryer? Upon discovering your mistake you realize that the clothes now smell musty.
What you're smelling could be microbial growth. Similarly, carpets that are left soaked for a long period of time will make the carpets smell like a wet dog.
This is one reason why you want to hire a professional with quality equipment to clean your carpets. You don't want to, instead, try and save a few bucks hiring the discount hack with the 30 year old truck. Or by going DIY with the rental carpet cleaning machine on the shelf at the store.
Old or Weak Machines Don't Suck Up Enough Water
For homes, it's not uncommon for a professional carpet cleaner to apply as much as 25-50 gallons of water. In a normal situation, the vacuum in the truck mounted machine extracts 90-95% of this water back out, leading to quick dry times.
But, either due to operator error (usually moving too fast or turning up the water pressure too high), inferior beat up old equipment, or modern cheap equipment, that extraction phase doesn't get out as much water as it should. This over-wetting is also common with the rental machines people rent from the grocery or hardware stores.
Obviously we're biased, but you should always get your carpets cleaned by a professional vs. a do it yourself option to avoid these issues. Another option is to try using baking soda to deodorize your carpets.
Drying Carpet After Cleaning
In addition to extracting the water during a carpet cleaning, you also want to get some air moving. Drying carpet after carpet cleaning should always be a focal point to keep things from smelling musty. How long it takes for carpet to dry can vary but usually it shouldn't take more than half a day.
Use Fans and Carpet Grooming to Help Dry Carpet
We use high speed fans that we move room to room to help with airflow while we are cleaning customer's carpets. We also use what's called a carpet rake to groom the carpet. This tool lifts all the carpet fibers up and aligns them vertically again. Doing so allows for faster drying.
Other Ways to Improve Carpet Drying
Beyond using professional fans and carpet grooming equipment, there are plenty of other things you can do to help things dry out.
Open up the windows in your home (assuming it's a nice day with a comfortable outdoor temperature). The airflow will speed drying
Run the fan on your HVAC system. If it's summer time and you have an AC unit, feel free to use that, or heat in the winter. Otherwise, just the fan mode works well too. The idea is to circulate air and few things circulate air through your house as well as your HVAC system.
Use your own fans – box fans or otherwise – to help move air around on the especially damp areas.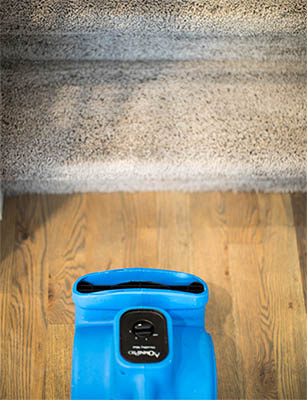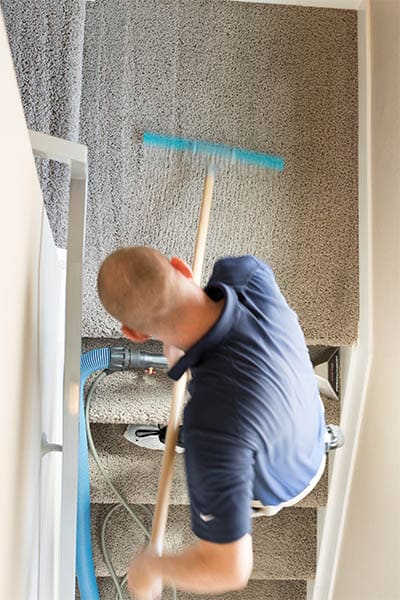 Water Damage Causing Microbial Growth
Typically when we get called to a home to investigate a complaint that a carpet smells musty or moldy it's because… well, it's moldy. We don't like to use the word "mold" since technically that can take many forms. Instead, we prefer to use the phrase "suspected microbial growth" so as not to overgeneralize.
You Can't Just Clean Moldy Carpet
All too often, someone will call asking if we can clean their water damaged carpet. When we get to the point in the conversation where we ask about any particular issues, the caller will say "well, I had some water leak into my basement a week ago and I just want to get the musty smell out".
Unfortunately, in most of these circumstances, a more aggressive approach is going to be needed than just a simple carpet cleaning service.
Getting The Musty Smell Out of Carpet
Removing the musty smell from carpet typically starts with a visual inspection of the underside of the carpet and carpet pad. Soggy or damaged carpet pad typically needs to be replaced. In many cases, however, the carpet can usually be saved. The carpet is cleaned both on the backing and the face of the carpet and an anti-microbial solution such as Microban is applied.
Next, carpet repair and carpet stretching work is needed to reinstall the carpet. Then, you're good as new. Failing to replace the pad when the carpet has been soaked is almost always going to be a mistake you don't want to make and will lead to having a smelly carpet after cleaning.
Does Carpet Cleaning Cause Mold?
The short answer is that proper carpet cleaning does not cause mold. Proper carpet cleaning, performed by the vast majority of companies, does not cause mold. However, If your carpet is still wet the day after you have it professionally cleaned, typically this is an indication that the company you hired did something wrong.
To over-wet your carpet to that extent, either they have a weak machine, the user was rushing and wasn't "dry stroking" the carpet to get the most water out of it, or you have a high pile carpet or extra thick carpet pad. Even so, this is probably not an issue as mold takes more than a day to propagate.
We'd recommend that you call the company back to extract any remaining water and set up fans or dehumidifiers if necessary.
Your Carpet Shouldn't Smell Musty After Cleaning
Things should never get to the point where your carpet smells musty after cleaning. It's generally a myth that carpet cleaning can cause mold. It's feasible, but it would indicate complete negligence or incompetence. No reputable company that actually knows what they are doing would over wet things to the point that mold occurred.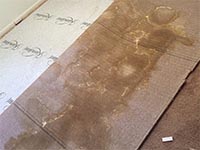 Pet Urine or Other Pet Odors in Carpet After Cleaning
Another leading cause of having smelly carpets after cleaning is pet urine or other pet odors. While standard carpet cleaning should do a good job of removing pet dander and general odors, removing pet urine from carpet requires more than just a basic carpet cleaning. We offer a variety of pet urine removal options based on the severity of the problem.
You should be aware that a basic carpet cleaning will not fix a pet urine issue. In some cases, the odor may actually initially get worse after a carpet cleaning since the urea and urine salts have been reactivated with hot water!
Proper Pet Urine Assessment and Treatment is Vital
Cleaning pet urine requires special products and techniques beyond basic carpet cleaning. We may flood areas with a special solution and extract it with a certain tool. Or, we may have to replace a portion of carpet pad. It may even involve sealing the subfloor.
If your carpet smells like pet urine after a carpet cleaning, it's probably best to call a professional carpet cleaning company.
Still Have Questions About Your Carpet Smelling Bad After Cleaning?
In summary, if your carpet is smelly after cleaning, or just smelly in general, it's probably best to hire a professional carpet cleaning company. MSS Cleaning comprises a team of experts that can handle all kinds of smelly carpet issues.
We provide carpet cleaning in Littleton, Centennial and all across the Greater Denver Area. Give us a call or shoot us an email. We'd be happy to answer any additional questions you may have.