How to Get Milk Out of Carpet
There's no use crying over spilled milk, but there certainly is use in getting it out of your carpet before it leaves a stain or, even worse, a smell.
Getting milk out of carpet
Whether your toddler spilled a drip out of their glass of milk, or your baby completely upended their bottle onto your carpet, you want to take action as soon as possible. You need to dry up the spill and avoiding any unsightly stains or yucky smells.
Wondering how to get milk out of carpet? Here is a bit more information about the situation and exactly what you should do.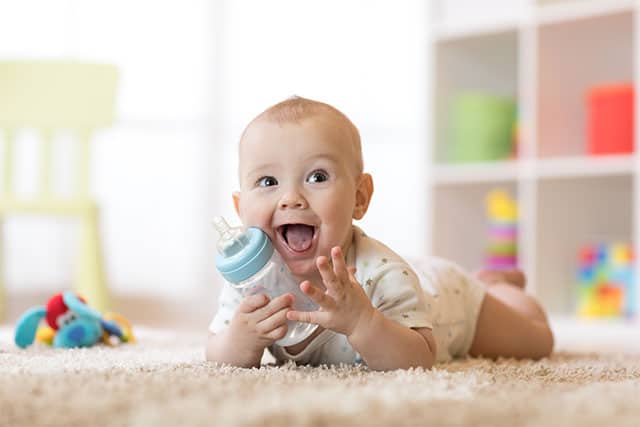 Why does milk cause a stain?
Usually when we think of liquids that cause stains, we think of wine, coffee, or other dark-colored substances. Generally, if a beverage is likely to stain our teeth, it's just as likely to stain our carpet if spilled.
However, there are some common liquids that you wouldn't expect to be stain-causing. Yet, these can be just as troublesome as others when it comes to stain removal. Unfortunately for moms everywhere, milk is one of these liquids.
Fats and proteins
Milk contains a complex mixture of proteins and fats. These have a pesky tendency to adhere to whatever they are spilled on. Therefore, it's extremely important to catch milk spills as soon as possible after they occur.
If you want the odds to be in your favor, clean the milk up while wet. Dry milk carpet stains are a completely different animal.
Enzyme action
When you're wonder how to get milk smell out of carpet or from the surface it's adhered to, enzymatic action is required. This basically means that you'll have to involve another substance that reacts to the fats and proteins in milk. This will help it to separate from your carpet fibers.
Though staining is usually the extent of your worries after spilling wine, coffee, or juice on your carpet, milk goes a step farther with its tendency to smell sour or, well, like spoiled milk.
Spoiled milk smell in carpet
We've all unfortunately experienced that signature spoiled milk smell at some point in our lives. Whether we're checking to see if the carton in the fridge went bad or an unknown, out-of-sight spill is suddenly making itself known, we all know the awful smell.
If you waste much time after a milk spill on your carpet, you may be in for a rotten smell of your own that's incredibly difficult to cover up.
A large quantity of spilled milk can even lead to mold growth if you're not careful. Trust us—you don't want either of those things in your home.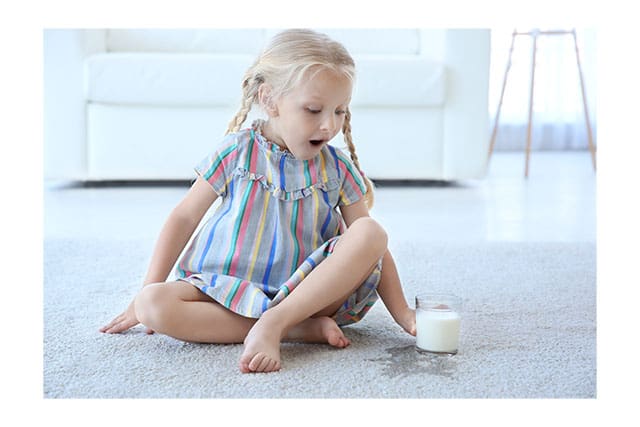 Steps for how to get milk stain out of carpet
As long as you catch a milk spill quickly after it occurs, it's relatively easy to effectively remove milk stains. Doing so will also prevent any spoiled milk odors. Here is the step-by-step process:
Blot the area with a paper towel or cloth
For those wondering how to get milk out of carpet, the first step is the most important and also the simplest. Carefully blot the stain and affected area with a clean cloth or paper towel.
Depending on whether the spilled milk seems to have seeped in or if it's right on the surface, you'll need to vary the amount of pressure you apply to your blot. Keep at it until your cloth or paper towel comes away dry.
Wash the carpet with a mixture of cold water and dish soap (hand soap works too)
Soap and water
In a large bowl, combine one cup cold water and several drops of gentle foaming dish soap. If you don't have dish soap nearby, hand soap will work fine.
Stir gently until the solution is completely mixed. Then, dip a clean lint-free cloth or sponge into the mixture. Wring it out until the material is damp and no longer dripping.
Blot the milk stain from out to in
Once you get to applying your cloth or sponge to the milk spill area, its best to work from the outer edge inward. Usa a gentle blotting and wiping motion to clean milk from carpet. As your sponge or cloth collects leftover milk or residue, keep rinsing and wringing out your washing material regularly.
Eventually, your sponge or cloth will wring out completely clear liquid. Once this happens, perform one final rinse before using a clean cloth to dry the area with a pressurized blotting motion.
Optional – apply baking soda
Once you've thoroughly cleaned the milk spill and avoided the curse of a dry milk carpet stain, you may want to sprinkle a light dusting of baking soda. Baking soda is odor-absorbent.
Doing this will help remove any remaining sour milk smell residue you may have missed. Leave the baking soda on the affected area overnight and then vacuum the area the next day.
Need more help with getting the milk stain out?
Now you know how to get milk out of carpet quickly and effectively. However, if you need help to remove milk stains that you couldn't get to quickly enough in the Denver area, it may be time to call in the experts. Contact MSS Cleaning anytime for more information.