Professional Upholstery Cleaning Highlands Ranch
Exceptionally Clean Upholstery
At MSS Cleaning, we're Highlands Ranch upholstery cleaning professionals you can trust to do the job right
MSS Cleaning – Highlands Ranch, CO
Upholstery That You'll Actually
Want

to Sit On

When you think about it, your upholstery is subjected to a whole lot of abuse. Between kids, pets, food and drink stains, and just general dirt and grime, that sofa, chair or ottoman has seen better days.

Not to worry – our professional upholstery cleaning method can restore your favorite furniture back to its former glory.
State of The Art Upholstery Cleaning
The best furniture upholstery cleaning solution includes well trained technicians using the best equipment. Our powerful truck mounted system uses the gold standard hot water extraction method of upholstery cleaning (also known as steam cleaning).  Along with this, we use industry leading Drimaster equipment which cleans without overwetting.
This avoids streaking and decreases dry time so you can get back to enjoying your favorite couch within hours instead of days.
Business Hours:
Mon – Fri: 8:00 – 6:00
Sat: 9:00 – 5:00
Sun: Closed
Zip Codes We Serve:
80124, 80125, 80126, 80129, 80130 
What Your Neighbors Are Saying
At MSS Cleaning, we're local experts, not a call center, lead generation service or random subcontractor who has been assigned your upholstery cleaning job from somewhere else and holds no real responsibility in being fair or doing the job right.
We are highly recommended all over the internet because our customers appreciate the MSS Cleaning difference and benefits of working with a local company. We know you will too.
Highlands Ranch Upholstery Cleaning Experts
While upholstery does just get dirty and requires periodic cleaning to last a long time and continue to look nice, there are also circumstances that call for immediate upholstery cleaning action.
Spots and stains like red wine, pasta sauce, juice, chocolate, marker or makeup all come to mind as problems we've solved for our customers.
Often times, the before and after photos tell the whole story.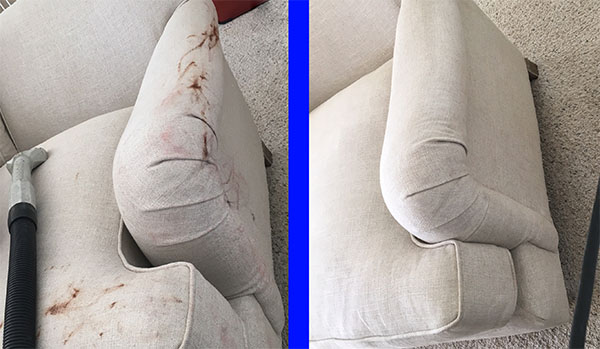 An Upholstery Cleaning Service That Keeps You Informed
We use the latest technology to make things easy for you. From scheduling, to reminders and ultimately payment, our service is easy, streamlined, and designed to keep you in the loop. Of course, we're always just a phone call, email or text message away.

Free Quote and Online Scheduling
Easily create a free quote and/or schedule your appointment online. Or just give us a call.

Reminders and Updates
Once you schedule, expect to receive text and email reminders before the service. You'll also get a notice when your technician is en route.

 Your Appointment
We'll arrive at your home or business, complete our work, and make sure you're happy.

Follow Up
Once the work is completed, you'll receive a follow up to make sure everything went well.
How We Clean Upholstery
We'll start with a thorough inspection of the piece(s) to be cleaned. We'll look at the fabric type, age, and other characteristics to decide on the best cleaning approach.
Upholstery specific prespray is applied to loosen soil and spots.
Special spotters may be used to remove certain stains like ink, tar, red stains etc. 
Manual agitation to release spots and stains may be used.
The deep upholstery cleaning begins using the truck mounted system and upholstery cleaning tools.
Fans may be used to help speed our already fast dry times
Your upholstery will be dry within a few hours
Other Highlands Ranch Services Offered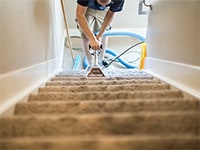 Residential carpet cleaning and commercial carpet cleaning for homes and offices in and around Highlands Ranch. We can clean Oriental rugs or area rugs too.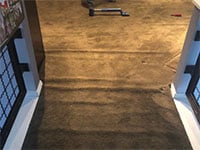 Wrinkled, rippled, buckling carpets? Burns, tears or damage? Don't worry, our experts have you covered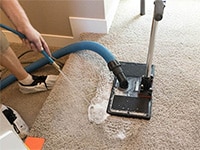 MSS Cleaning is able to solve the toughest carpet pet odor and pet stain issues
Frequently Asked Questions
What makes MSS Cleaning's equipment different from other upholstery cleaning companies?
We use a truck mounted system with state of the art drimaster tools. Our competitors, especially those offering "dry carpet cleaning" often use small, weak, portable spotters that lack the necessary pressure and suction to do the job right.
Can't I just upholstery cleaner DIY it?
Yes, for small spots, we'll be the first to tell you that a portable machine that you buy at the store can be fine. Be careful not to overwet the area and also to fully rinse out any solution you use in the machine so that it doesn't leave a dirt attracting residue. 
When it's time to clean the entire piece, or for difficult spots and stains, you really are going to want the help of a professional upholstery cleaning company. Professional upholstery cleaning machines clean so much more deeply and effectively.
Do you provide carpet and upholstery cleaning?
Yes, one of the benefits of working with our company is that we offer both carpet and upholstery cleaning. This gives you the ability to get both services done on the same day.
What kinds of furniture do you clean?
We clean all kinds of furniture. From sofas to sectionals, ottomans to dining room chairs. Headboards to throw pillows and everything in between. 
The Best Highlands Ranch Upholstery Cleaners
We want to be your partners in helping you keep your upholstery clean and looking it's best. Our company offers services all throughout Highlands Ranch and the Greater Denver Area.
If you have any questions or would like to book an appointment over the phone, please don't hesitate to give us a call. If you prefer to schedule online, please feel free to use our easy online scheduler too.