Carpet Stretching | Carpet Repair Highlands Ranch, CO
Don't Replace Your Carpet, Repair it Instead!
We offer professional carpet repair and carpet stretching in Highlands Ranch to bring your carpets back to life!
The Best Carpet Stretching and Repair Services in Littleton, CO
Being the best means more than just providing the best carpet repairs and stretching around. It also means being a company that offers free quotes, easy booking online or by phone, clear and honest pricing and service from local experts, not a call center or subcontractors.
Our numerous 5 star reviews show that our customers appreciate the MSS Cleaning difference. We know you will too.
Expert Carpet Stretching Highlands Ranch
Are your carpets bubbling, wavy, or rippled? Not only are they unsightly, but those wrinkles also pose a tripping hazard. Instead of thinking you need to replace your carpet, let us provide a free estimate to stretch it back to the proper tautness.
In addition to no looking the best, wrinkled carpets also wear out early. As people walk over the ripple damage occurs at the carpet backing. This makes the carpet weaker and weaker and becomes more obvious over time.
How We Stretch Carpet
When we re-tension carpet, we do it properly.
This involves using a combination of a power stretcher and and a knee kicker. Excess carpet is then trimmed. Next the carpet is reattached onto the tack strips. Finally, it's properly tucked along the wall and/or under the baseboards (if  present).
After the re-stretching, the rippling is gone and the carpet looks good as new. We've done many Highlands Ranch carpet stretching jobs as well as jobs all across the greater Denver area.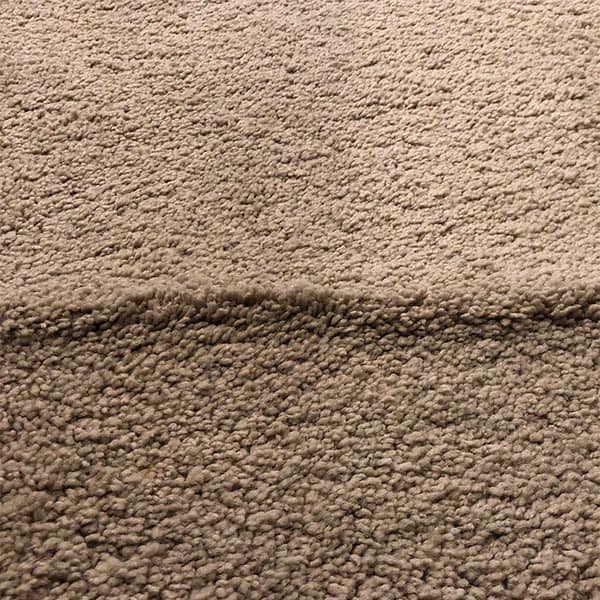 Why is My Carpet Loose or Buckling?
Carpet Ages
Over time, carpet, which is typically made with a latex backing, relaxes. When this happens, the original tension in the carpet from when it was installed is lessened. Buckling and ripples begin to form as the carpet relaxes.
Poor Initial Installation
Proper carpet installation includes the use of a power stretcher, not just a knee kicker. The power stretcher is necessary to properly tension carpet, while a knee kicker is supposed to be used as a placement tool.
Unfortunately as big box stores and national companies have begun selling carpet with free installations, or inexpensive home builders rush to get a job done, they skip the necessary steps, like power stretching to do the job right. After a few months, the newly installed carpet is already starting to buckle and ripple.
Get a Free Highland Ranch Carpet Stretching Estimate
We offer free carpet stretching estimates. We'll give you a straight answer on whether you should get your carpet restretched, or if it makes more sense to replace it. We'll also tell you what it will cost to restretch your carpet.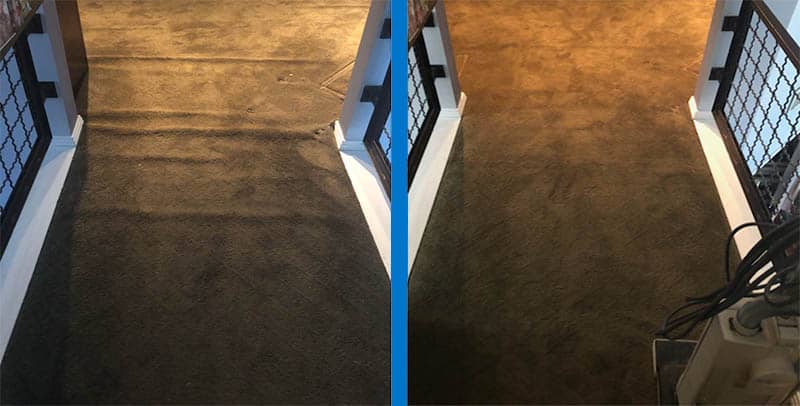 Highlands Ranch Carpet Repair
At MSS Cleaning, we have years of experience repairing carpet damage. From burst seams, to tears, burns pet damage and more. We've seen it all and we've fixed it all.
We specialize in producing invisible or nearly invisible carpet repairs with strong seams that hold. As long as you have a matching piece of carpet for us to perform the repair with, we can expertly repair your carpet to it's original appearance.
Carpet Repairs Small and Large
Our team specializes in carpet repairs both large and small. From minor tears or burns all the way up to full area carpet pad replacements. We provide repairs for full rooms, hallways, or stairs as well. 
State of the Art Equipment
We use only the best equipment during our Highlands Ranch carpet repair work. Premium tools, sharp blades and Kool Glide carpet seaming tools are used to create seamless repairs with strong seams that hold. 
Get a Free Carpet Repair Highlands Ranch Estimate
We offer free carpet repair estimates. Give us a call to discuss the specifics of your carpet patching or carpet repair services needs. Depending on the severity of the carpet repair needs, we can either provide a price on the phone or set up a time to come out provide a free estimate in your home.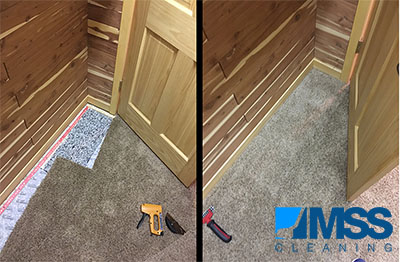 Additional Services Offered
At MSS Cleaning, we don't just provide expert carpet stretching and repair work in Highlands Ranch, we also offer a number of additional services. 
We provide top of the line carpet cleaning services in Highlands Ranch using the hot water extraction (steam cleaning) method. Frequently, we clean carpets in conjunction with repair or stretching services. Many times, we can even clean your carpets on the same day!
Upholstery Cleaning
Have a couch, loveseat or set of dining room chairs that need to be cleaned? We'd be happy to clean these for you while we are doing repair or stretching work at your home.