Professional Carpet Stretching and Carpet Repair Westminster, CO
Trust your carpet repairs and stretching to the experts at MSS Cleaning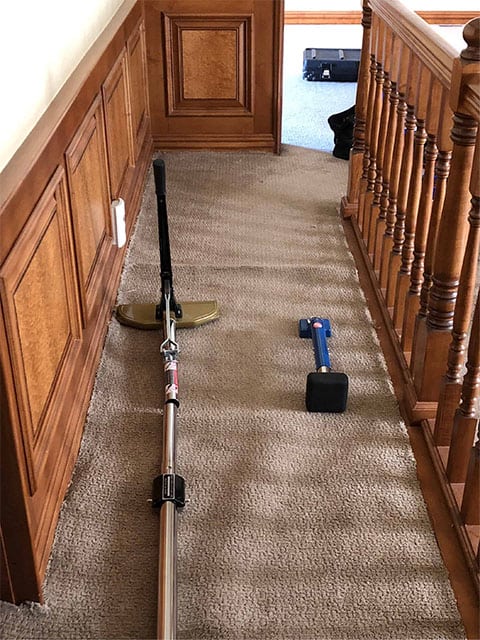 MSS Cleaning – Westminster, CO
Expert Carpet Stretching Westminster
Rippled, bubbling, loose carpet is more than just unsightly, it's also an annoying tripping hazard. It's also accelerating how quickly your carpet is wearing out, leading to expensive early replacement.
At MSS Cleaning, our experts have the right carpet tools and knowledge to correct your loose carpet issues the right way.
Carpet Repair Westminster, CO
There are myriad reasons you may need carpet repair services. We can tackle them all. Common carpet repair issues we deal with include:
Bleached carpet areas
Pet damage
Tears and rips
Splitting seams
Damage at doorways and transitions
Unremovable stains
And more…
No matter what caused your carpet damage, don't worry, we've got you covered.
Business Hours:
Mon – Fri: 8:00 – 6:00
Sat: 9:00 – 5:00
Sun: Closed
Westminster Zip Codes We Serve:
80003, 80005, 80020, 80021, 80023, 80030, 80031, 80234, 80260
Top Rated Westminster Carpet Stretching and Repair
We bring quality workmanship and exceptional customer service to every job we do.
Our customers are noticing the MSS Cleaning difference. We're looking forward to showing you why.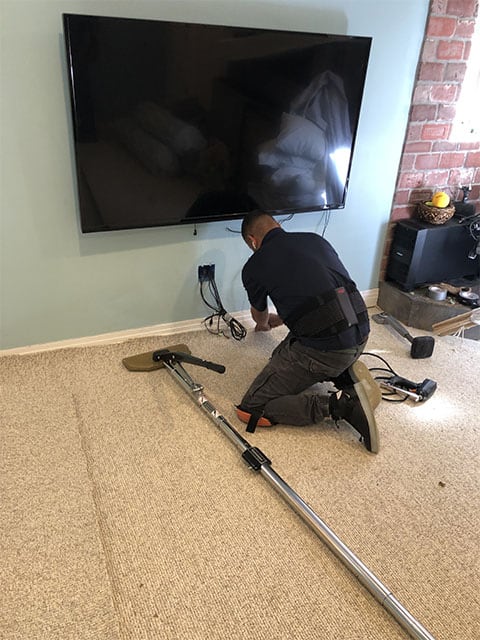 MSS Carpet Stretching Process
There is more to carpet stretching than using a knee kicker and a razor knife. Proper carpet stretching is done using a power stretcher. 
This tool allows safe and consistent pressure using a large lever to stretch the carpet to the proper tension. Then the carpet can be attached to tack strips along the wall.
Excess carpet is trimmed off before the carpet is tucked under baseboards or against a threshold for a finished look.
Many installers and carpet stretching service providers speed through a job, resulting in poor quality work. At MSS Cleaning, we take the time to do the job right, so the carpet stretch isn't a quick fix, but one that lasts.
Free Westminster Carpet Stretching Estimate
If you're searching for a "carpet stretching service near me", you're in the right place. We'd be happy to provide a free carpet stretching estimate for you. 
Either give us a call or schedule an appointment online. We'll follow up to understand the scope of your project and provide you an upfront quote.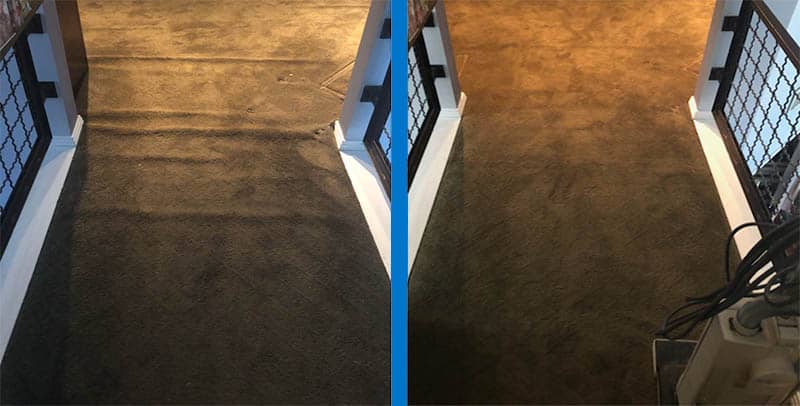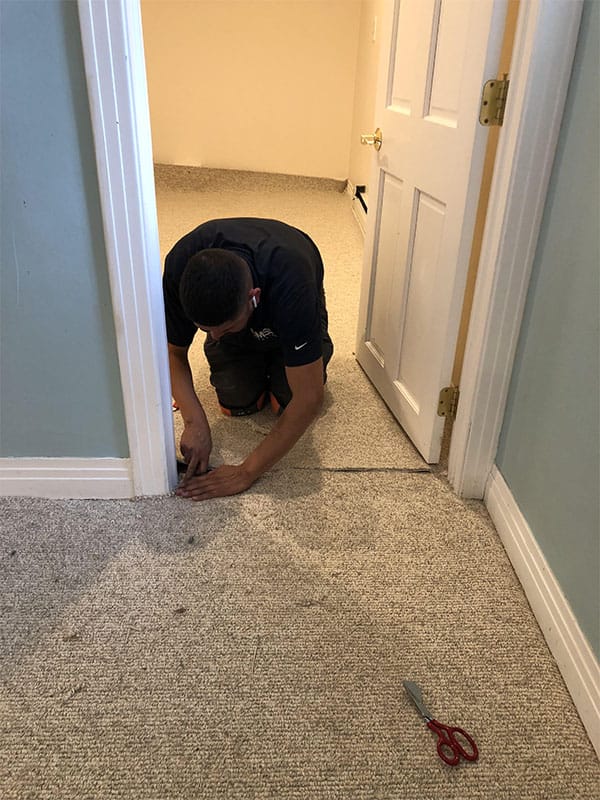 Carpet Repair Process
We'll bring years of experience to your carpet repairs. What many don't realize is that carpet repair is an art that requires a lot of practice to do well. Poor quality work shows in clearly visible seams, missing carpet fibers, or rough edges.
Typical carpet repairs include cutting out a piece of damaged carpet and replacing it with a patch of undamaged carpet. This can either come from a remnant saved from the time of install or taken from a discrete area like a closet.
The patch is then carefully matched and seamed into the existing carpet. 
This is one example of the many types of carpet repairs that we perform.
Free Westminster Carpet Repair Estimate
The easiest way to get an accurate rough estimate before we arrive is to have a quick chat on the phone. That way we can discuss the project and what we expect it to cost.
Assuming a price cannot be determined over the phone, we can come out and put together an estimate for you.
In either case, we'll provide an upfront cost before any work is done.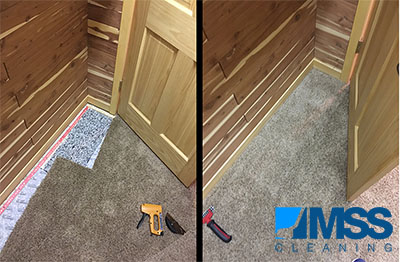 Easy, Professional, Hassle Free Service
We use the latest technology to make things easy for you. From scheduling, to reminders and ultimately payment, our service is easy, streamlined, and designed to keep you in the loop. Of course, we're always just a phone call, email or text message away.

Free Quote and Online Scheduling
Easily create a free quote and/or schedule your appointment online. Or just give us a call.

Reminders and Updates
Once you schedule, expect to receive text and email reminders before the service. You'll also get a notice when your technician is en route.

Your Appointment
We'll arrive at your home or business, complete our work, and make sure you're happy.

Follow Up
Once the work is completed, you'll receive a follow up to make sure everything went well.
Services Offered
At MSS Cleaning, we also expertly provide a variety of other services to keep your home or business looking it's best.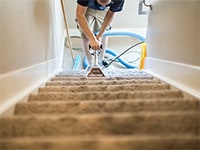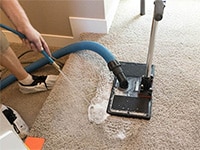 We're true experts at solving difficult carpet pet odor, pet urine, and pet stain issues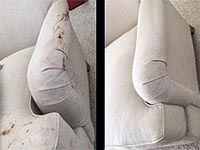 Top quality upholstery cleaning using equipment that thoroughly cleans without over-wetting or leaving streaks
Frequently Asked Questions
Can you provide carpet stretching and cleaning on the same day?

Yes. Because we use technology like a Kool Glide seaming iron, we aren't dealing with hot glue strip seams like old-school technology. So, time allowing (or if you schedule carpet cleaning ahead of time), we can provide carpet cleaning and stretching or repairs on the same day.

Can carpet be stretched without moving furniture?

Yes and no. Heavy furniture like beds and sofas is typically best moved to another area. We have special lifting levers and pads we can use to help move furniture, however.

I watched a video on how to stretch carpet with a knee kicker. Is that all you do?

No. Knee kickers are a useful tool for

placing

carpet, and for "stretching" small areas like a closet where a power stretcher may not be necessary. For any larger areas, a power stretcher is needed to get the proper tension, then the art of using a knee kicker to make minor adjustments and placements is necessary to get great results.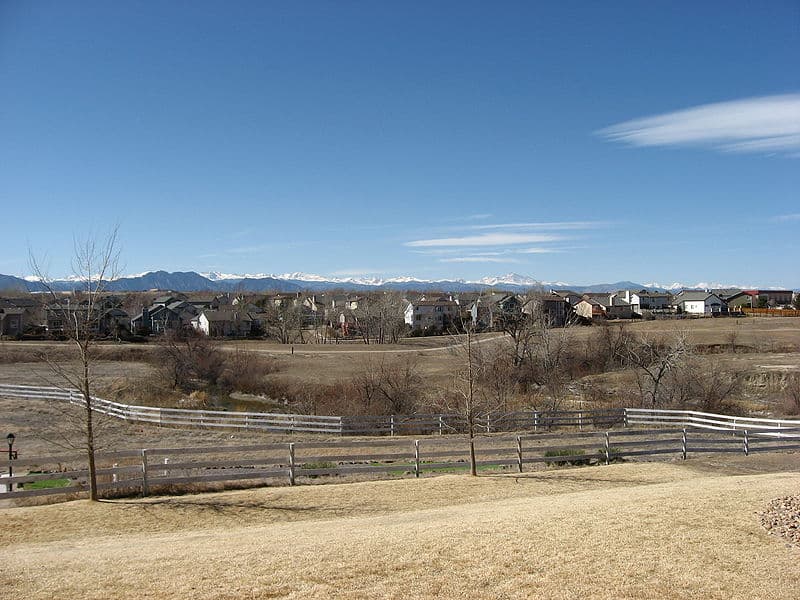 Westminster Colorado
Westminster is a beautiful place to call home and we love having the opportunity to help our customers with all of their carpet and upholstery cleaning needs in this wonderful area.
With it's easy commute times from Denver and Boulder, we service many homes in the Westminster area. From Kings Mill to Huntington Trails, Countryside to Cottonwood Villas, and everywhere in between.