Littleton Carpet Stretching and Repair 
Don't Replace Your Carpet, Repair it Instead!
We offer professional carpet repairs and carpet stretching in Littleton and the surrounding area to bring your carpets back to life!
The Best Carpet Stretching and Repair Services in Littleton, CO
Being the best means more than just providing the best carpet repairs and stretching around. It also means being a company that offers free quotes, easy booking online or by phone, clear and honest pricing and service from local experts, not a call center or subcontractors.
Our numerous 5 star reviews show that our customers appreciate the MSS Cleaning difference. We know you will too.
MSS Cleaning – Littleton, CO
Professional Carpet Stretching Littleton
No one likes having rippled, buckling carpets in their home. Over time or due to improper installation, carpets can be looser than they should be.
Using power stretchers and knee kickers, our experienced technicians properly stretch the carpet back to the proper tightness, restoring a just-installed look.
Carpet Repair Littleton
Does you carpet have damage from burns, tears, pet damage or bleach stains? Maybe you're dealing with splitting seams? Don't worry, we're here for you.
We can cut out the damaged area and seam in a new piece of carpet to repair unsightly damage.
Business Hours:
Mon – Fri: 8:00 – 6:00
Sat: 9:00 – 5:00
Sun: Closed
Littleton Zip Codes We Serve:
80110, 80120, 80121, 80122, 80123, 80128, 80129, 80160, 80165, 80166
The Best in Littleton Carpet Stretching and Repair
At MSS Cleaning we do things a bit differently. Our carpet repair employees have years of experience and the results show. 
We offer high quality repairs coupled with exceptional customer service.
Our customers have noticed the difference and we know you will too.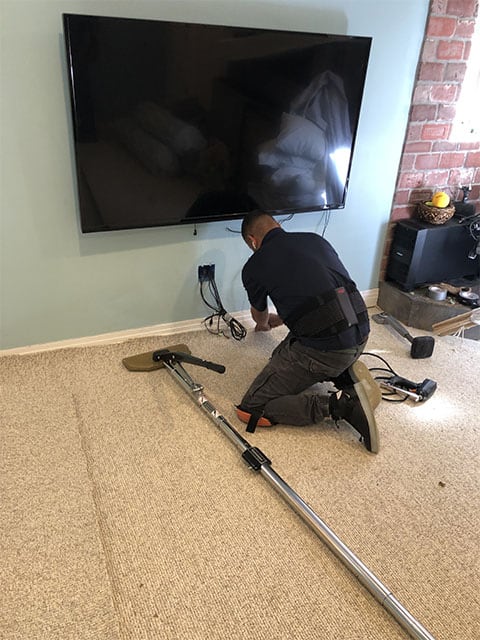 Carpet Stretching Process
When we stretch carpet, we don't just "kick it in" with a knee kicker. We do it properly with a power stretcher. 
This tool allows for the necessary leverage to actually pull a carpet taut.
Once it's stretched, we can then attach the carpet to tack strips to hold it in place and cut off the excess. Then the carpet is neatly tucked under the baseboards or against the wall.
Afterwards, the rippling is gone and the carpet looks good as new.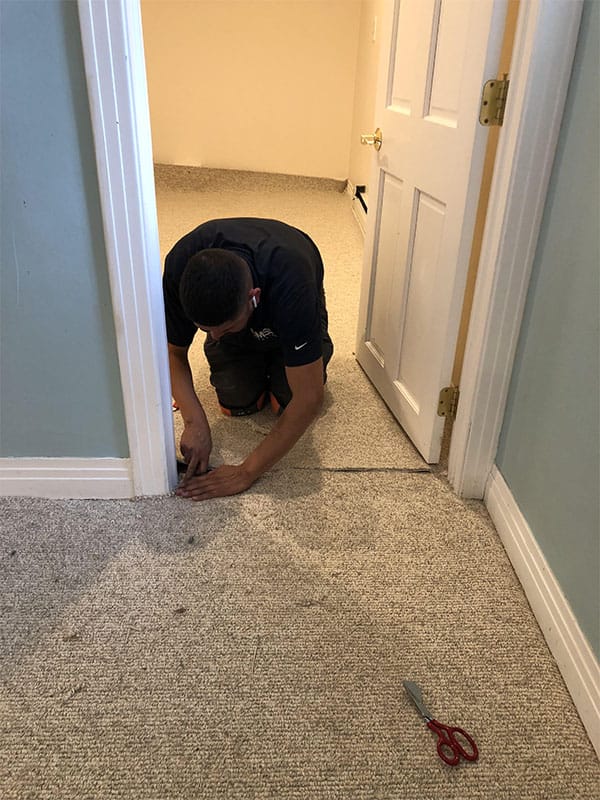 Carpet Repair Process
We bring years of carpet repair experience into your home. 
Using a spare piece of carpet from the original installation, or from a discrete area like a closet, we take a patch of carpet.
Next, we cut out the carpet problem area. Then we match a new piece of carpet and seam it into the space for a permanent repair.
Usually carpet repairs are invisible or nearly invisible, depending on the carpet type.
Easy, Professional, Hassle Free Service
We use the latest technology to make things easy for you. From scheduling, to reminders and ultimately payment, our service is easy, streamlined, and designed to keep you in the loop. Of course, we're always just a phone call, email or text message away.

Free Quote and Online Scheduling
Easily create a free quote and/or schedule your appointment online. Or just give us a call.

Reminders and Updates
Once you schedule, expect to receive text and email reminders before the service. You'll also get a notice when your technician is en route.

Your Appointment
We'll arrive at your home or business, complete our work, and make sure you're happy.

Follow Up
Once the work is completed, you'll receive a follow up to make sure everything went well.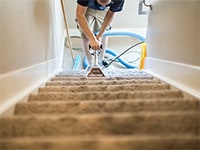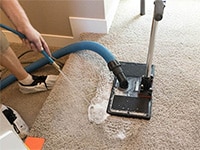 We're true experts at solving difficult carpet pet odor, pet urine, and pet stain issues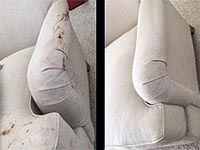 Top quality upholstery cleaning using equipment that thoroughly cleans without over-wetting or leaving streaks
Commonly Asked Questions
Can you provide carpet stretching and cleaning on the same day?

Yes. Traditionally the issue with cleaning carpet on the same day as stretching is that the hot glue used to seam carpets needs time to dry before it gets wet. Unlike traditional methods, we use a technology called Kool Glide to use radio frequency to activate seam tape. Beyond the other advantages of this technology (seams are stronger, last longer, and can be adjusted if necessary), it allows the carpet to cleaned without the concerns of glue releasing. 

Can carpet be stretched without moving furniture?

Most of the time we can manage furniture in rooms. Large furniture like sofas, beds, entertainment centers can potentially interfere with the carpet stretching process. It's best to just give us a call to discuss the specifics. One way or another, we have a solution, as well as specialized furniture moving equipment, slides etc.

I watched a video on how to stretch carpet with a knee kicker. Is that all you do?

No. Knee kickers are a useful tool for placing carpet, and for "stretching" small areas like a closet where a power stretcher may not be necessary. In almost all cases, a power stretcher is going to be necessary to do a proper carpet stretching job.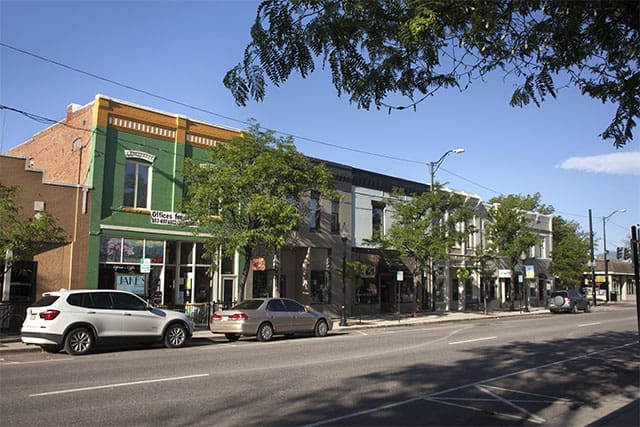 Expert Littleton Carpet Repair and Stretching Services
When you want the best, call MSS Cleaning. We service homes all throughout Littleton and the Greater Denver area.
While we're based in Denver, Littleton is just a short drive down Santa Fe. We work in Littleton all this time, whether it's stretching carpet in Roxborough Park, doing a carpet repair at Chatfield, or working over near Hudson Gardens or Downtown.
We've worked in plenty of your neighbors' homes. We look forward to serving your home next!